MacLeod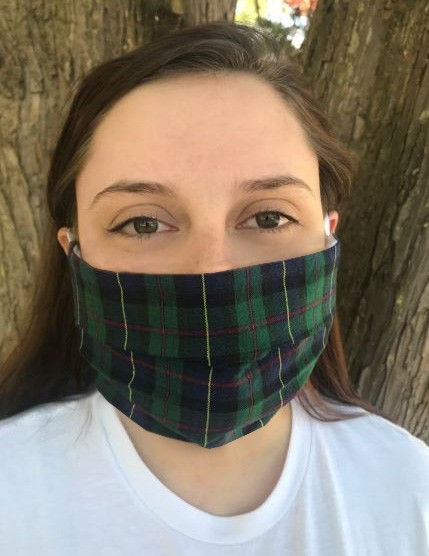 The roots of Clan MacLeod are primarily set in the Isle of Skye, the Hebrides, and Sutherland (a total area the size of New Jersey.) Tradition states that Leòd's two sons, Tormod and Torcall, would each gain a portion of Leod's lands. Eventually, their independent families would expand into the two primary branches of MacLeod: "MacLeod of Harris [and Dunvegan]" (Chief: "MacLeod of MacLeod") and "MacLeod of Lewis [and Raasay]" (Chief: "MacLeod of The Lewes"), respectively. While these origin stories date to the late 1200s, it was not until the 1900s that geneaologists and historians would discern that the "younger son" in the legend, Torcall, would more accurately be described as "an accomplished great-grandson". As such, since the "MacLeods of Harris" are the older branch, the branch designation "of Harris" is conventionally optional.
For the MacLeods [of Harris], it is nearly impossible to discern a definitive "original tartan" from the multitude of patterns and naming schemes found throughout this sprawling family's complex history. In an effort to abate an endless debate, the clan society ratified the popular "MacLeod Green" (also called "MacLeod Hunting") as the de facto "MacLeod of Harris" clan tartan in 1910.
The MacLeods of Lewis, however, have been strongly attributed to their distinctive yellow and black tartan which has also been labeled as "MacLeod Dress" (and sometimes jovially referred to as the "Loud MacLeod".) While this unusual tartan's authenticity and origin still evade historic corroboration, the modern MacLeods of Lewis have proudly championed no other alternative since the early 1800s.
Undivided Individuals
The Macleod [of Harris] family crest is the face of a horned bull flanked by flowing flags beneath the family motto "Hold Fast".
The Macleod of Lewis family crest is a sun in splendour encircled by the family motto "I birn quil I se" (Popular translation: "I shine, not burn".)
Tartan Variants
Aside from the standard "Modern" tartan, your tartan may also have a variety of variants to suit different occasions and moods. The most common variants are "Ancient", "Dress", and "Hunting". Below are related tartans currently available at Atlanta Kilts.